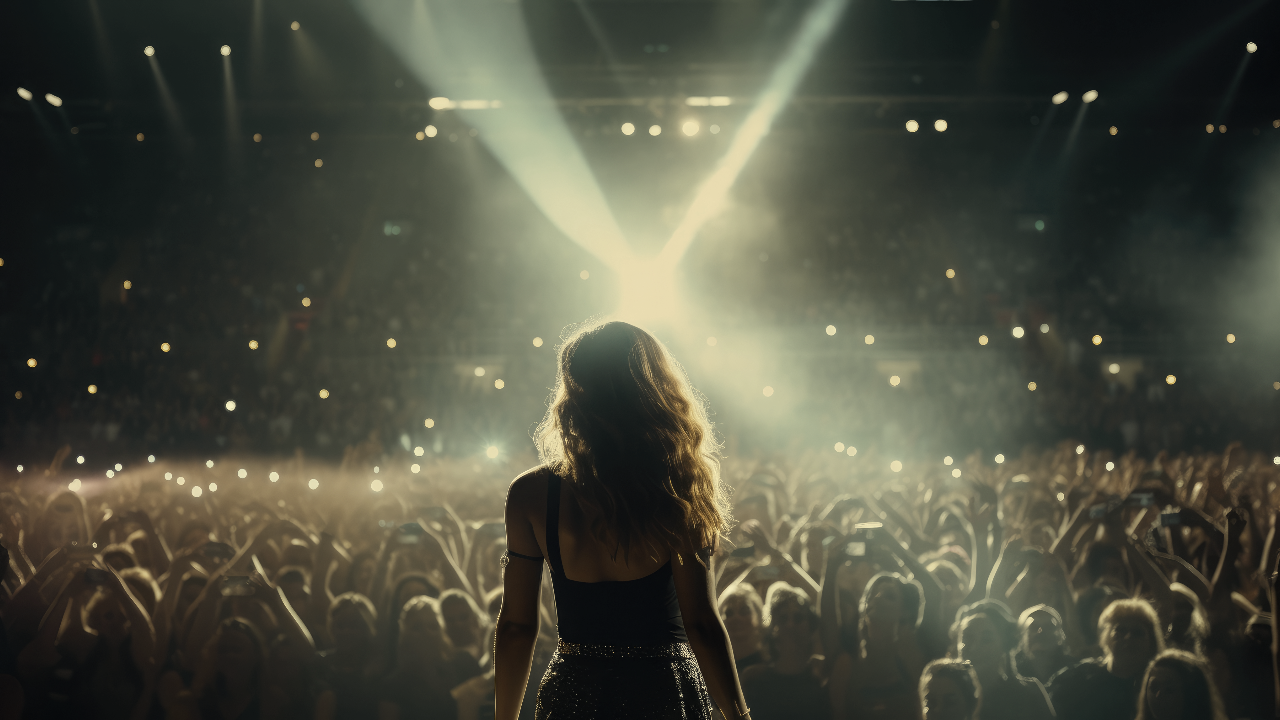 If You Need Marketing Help, Ask Taylor Swift
If there is one cornerstone attribute of Taylor Swift's success it's through authentic connections with her audience, making them feel like "friends."
Taylor Swift changed the music business across the board from artists' rights to album release models, to fan engagement, ticket scalping, and marketing.
Mentored by parents well-versed in entrepreneurship, marketing, and wealth management, Taylor Swift masterly marketed herself from the very start.
---
Taylor Swift was an Expert Communicator from the Start
Even before the release of her eponymous debut album, there was a buzz in Nashville about the songwriting of Taylor Swift, at a mere 14 years of age.
When her first album exploded, spending 24 weeks at number one on the top country albums and yielding five hit singles over two years, it was clear her lyrical messages were resonating with millions of people.
But journalists wondered how this was so. After all, this was a high school girl, with themes that were largely about teenage experiences, and country audiences were mainly middle-aged listeners.
Taylor's marketing savvy was at work from the very start. Swift had engaged in online marketing via MySpace, which connected her with the younger demographic, and brought them into the fold, driving album sales.
Musically, it also helped that Taylor's producer had fought with the record label to give the album more of a pop-style mix versus a standard country mix. This would play a big role over the next two albums in creating an even greater crossover appeal for Swift.
As a result of the debut album's success, Taylor Swift became the first solo female country artist to write or co-write every song on a platinum debut album. This spawned an entire generation of singer-songwriters who wanted to follow in her footsteps.
But the key takeaway here was that Taylor Swift's personal connection with fans and potential fans through direct, authentic, transparent, and sincere communication would be the cornerstone of her approach in every aspect of her career. Putting people first and making them feel that everything she does is all about them, not her.
A focus on one's purpose
Swift's father, Scott, was a Merrill Lynch wealth manager, and her mother, Andrea, was a marketing manager and entrepreneur. According to James Rink, founder and CEO of Purpose of You, Taylor was empowered and mentored to be a master marketer and CEO of her global family business. Rink, who produced and directed the 2006 television documentary, A Place in this World, and more, has known Taylor since she was 15 years old.
According to Rink, Swift's success comes down to her having a clear definition of her purpose.
"Swift's foundational leadership strategies as a creative talent and CEO are akin to Walt Disney's and Steve Jobs's," Rink wrote in Inc.
Making others feel they matter
There is a theme that runs through many of Taylor Swift's works, and that is one of being vulnerable, uncertain, and finding one's place in the world. She has a way of making the listener feel they are taking that journey with her, and vicariously learning the same lessons.
"Swift's personal story of vulnerability and uncertainty creates a shared connection with the listener and leaves room for the listener to find their place in their world," Rink said. "Her value to her fans is to help empower them to figure out their shared challenges so they can better live their own life story."
At a recent premiere of the film "Taylor Swift: The Eras Tour" held on October 11, 2023, at the AMC Grove in Los Angeles, Swift made an appearance and made a few brief remarks. Bill Murphy Jr., a contributing editor to Inc., called Swift's comments "a master class in emotional intelligence."
"We pranced on that stage grinning because of what met us on the other side," Swift said. "You are the main characters in this film. You cared so much about these shows."
Murphy honed in on seven words: "You are the main characters in this film."
As she has always done, Swift made the focus of the film – one that has her name on it – about them – her fans – not her.
Murphy points out three key messages that can be imparted from Swift's comments.
You are important.
I hear you and I see you.
You are the reason we do whatever it is that we do.
In that short passage, Swift has not only made her audience feel important, but she's increased their sense of self-worth, boosted positive emotions, and left them feeling a connection to her.
Fans flock to Swift for more than the music alone. A large part of the draw is satisfying the emotional need to be recognized and part of a community of people who feel the same way they do.
Company Culture
One area it is imperative to make people feel they matter is in your own company culture. Again, Taylor Swift excels here.
Swift doesn't restrict herself to only saying nice things. She puts actions behind her words. For example, she gave the truck drivers who transported her equipment from venue to venue for 24 weeks way more than the standard expected gratuity. Each driver received a bonus of $100,000, an amount between 10-20 times over a standard tip. Swift also gave life-changing bonuses to other people who made her tour possible. According to some reports, Swift gave a whopping $55 million in bonuses overall.
Taylor understands that satisfied employees mean less absenteeism, lower turnover, and the ability to retain top talent.
No one does anything alone. No matter who you are, you're only as good as those working under and supporting you. Swift's success relies on a top-notch team.
In a not-so-shameless plug, Interest Media is proud to be Certified™ by Great Place to Work® for 2023-2024, as well as named by Ingram's Magazine in Kansas City as the "Best Companies to Work For" in 2023.
The Personal Touch: Surprise, Delight, Empower, and Deliver
Meta's (Facebook's) was one of the first under-30 entrepreneurs to successfully launch and maintain consistent growth. But now Taylor Swift is the next young entrepreneur to bring an aura of excitement, engagement, and continual growth to her brand. How does she do it? Innovation and reinvention.
While most people who promote themselves through social media wield it as a tool for marketing, Swift uses it differently. Taylor uses social media for mentoring. She makes it about them, not herself.
Creating surprises and over-delivering
In the weeks immediately before the release of her "1989" album, Taylor lurked on popular social media channels such as Twitter, Instagram, and Tumblr. She would read raw feedback, then reward her supporters by giving them personal invitations to a "special Taylor Swift opportunity." These consisted of several "secret sessions" that were approved release listing events that were held at one of her own homes in Nashville, Beverly Hills, New York, and Rhode Island, according to Tony Robbins.
However, these events went way beyond the then-industry standard "pre-release parties." This was Taylor Swift, in-person, reinventing the mode of an album publicity event, and transforming it into a casual hang-out with fans. Swift sat on the floor and informally spoke to the attendees about her inspirations and influences.
Fans came away inspired and lauded Taylor on social media with an outpouring of praise that helped rocket her sales to over 1 million on release.
Taylor Swift constantly conceives of ways to surprise her fans. There was that time in 2014 when she invited over 100 fans into her mother's house for baking and dancing.
On December 11, 2020, two days before her 31st birthday, Swift surprised fans by announcing her ninth studio album titled "evermore," a "sister record" to "Folklore," would be released that evening at midnight. The announcement came exactly 16 hours before the midnight release to digital music and streaming platforms only. CDs were released a week later. A limited number of autographed CDs were sold at select independent record stores.
Ever since I was 13, I've been excited about turning 31 because it's my lucky number backwards, which is why I wanted to surprise you with this now. You've all been so caring, supportive and thoughtful on my birthdays and so this time I thought I would give you something! pic.twitter.com/wATiVSTpuV

— Taylor Swift (@taylorswift13) December 10, 2020
Swift's fans have come to expect the unexpected due to the way she prioritizes fan engagement. While reinventing many promotional aspects of the music business, Taylor has laid the groundwork for other acts to build meaningful connections with their own supporters, Billboard reported.
Totally extra: Up close and personal
If all the aforementioned wasn't personal enough, Taylor is not content to stop there. She goes totally extra by taking things to the next level.
Swift gave some of her fans Christmas gifts. And not gifts she had one of her people put together for her. Taylor filmed herself, in her own home, personally wrapping gifts that she had chosen herself for a selection of fans. A video entitled "Taylor Swift's gift giving of 2014 | SWIFTMAS" shows her wrapping gifts and is interspersed with footage of real, raw fan reactions as they unwrapped the presence and read the hand-written notes from Taylor. Most fans are hardly able to speak due to tears of joy. But Taylor's personalized touch didn't end there.
Ever the one to add the element of surprise, the video reaches a pinnacle when Swift herself drives from New York to Connecticut to personally deliver gifts to one special fan and her young son. And there's even more… Swift spends time playing and visiting.
Next, we'll look at the not-so-secret ingredient that makes this all work so well for Taylor…
Authenticity Can't Be Faked
In the wrong hands, with poor execution, all of Taylor Swift's efforts at "personal touch" promotion could easily fail. People can see through a "publicity stunt" that isn't real. Stunts that backfire result in cynical fans or even those who become hostile, never to return, and worse, those who will speak out against you.
However, Taylor's interactions with fans have been effortless for her from the beginning. Why? Because it's authentic. It's who she is. She comes off as heartfelt, earnest, and generous because that is her personality. She's not faking it. She's not attempting to manipulate fans to get a sale.
Taylor Swift is genuinely in love with her fans – not her fame or success. That's the key difference. They sense this. Not based on her words alone, but her actions prove it – time and again. She never fails to put the fans first and reward them for their support. She makes them part of the conversation, and thus, part of the "family" of her brand.
View this post on Instagram
A marketing tour de force
Taylor Swift's fans, called "Swifties" are fiercely loyal. It's hard to even categorize them as fans because the bond is so strong they are truly her "friends." The power Swift and her following wield is staggering. Her global "Eras Tour," her first in five years, reportedly grossed $1 billion, according to Inc.
The movie "Taylor Swift: The Eras Tour," which possibly will be viewed by more people than the record-breaking tour itself, is selling out theaters. It had the second-highest domestic opening in October ever, tallying $92.8 million during its debut, according to CNBC.
Wielding Power Beyond the Stage
When Taylor Swift started dating the Chiefs tight end Travis Kelce and attended two Kansas City, major news outlets declared that the "Swift Effect" had taken hold of the NFL.
And a matchup on Sunday night between the Chiefs and the New York Jets, the game drew 27 million viewers – making it the most-watched Sunday TV show since the previous Super Bowl, according to NBC Sports. Not only that, viewership among teen girls spiked 53% in the season-to-date average, viewership among women ages 18-24 was up 24%, while the viewership for women over age 35 increased 34%.
Key Takeaways: What Can Marketers Learn from Taylor Swift?
Here are some of the key lessons we can extract from examining how Taylor Swift has promoted and managed her own career.
Social media: Use social media, not simply as an arm to promote sales, but to create a dialogue and connection between your brand and the audience. Inform, mentor, and be helpful.
Be authentic: Be transparent in what your brand does and what it stands for. Authenticity brings you something priceless in return: Respect.
Be a friend: Make your audience feel important. Show that you care about their concerns. Listen to their feedback. Communicate that you are there to help them with their problems and offer support. Never leave them feeling like they are just another "sale." Make your audience feel like a friend.
Delight the audience: Use social media and other outlets to entertain and inform your audience in memorable ways. Never just go through the motions. Always look for ways to keep things fresh using surprises and the unexpected. Delight your audience and they will keep coming back for more of your content, as well as become your advocate.
Be "extra" and over-deliver: The adage holds: "Anything worth doing is worth doing well." Don't just deliver – over-deliver. Go beyond what the audience might expect or what your competitors would do. Go the extra mile.
Offer the personal touch: Everywhere you can deliver a personal touch, strive to do so. Whether that is support calls with an actual human being or giveaways and contests that reward customers, such steps show you care about your customers.
Make people feel they matter: Make everyone feel like they matter. Not only your customers and followers, but your employees, and everyone in your greater sphere of influence that contributes, even in a small way. Foster a culture of inclusiveness, mutual respect, and openness.
Want to target users with proven buyer intent?
Check out our Free White Paper on The Unbeatable Nature of Intent-Based Advertising or reach out to one of our brand promotion specialists! We pride ourselves on being able to bring advertising partners the exact consumers they've been looking for.